Hudy 14k: Some Sort of Race Report
So Saturday, September 20, 2014 I ran the Hudepohl 14k.  This is one of the funnest races on my calendar – so fun I paid for the 2015 race already!
The course
The course is an easy course, which is hard to do given the hills in Cincinnati.  The first 3.3 miles (or so) are nearly flat, and there is a slight hill coming back into Over-the-Rhine via Harrison.  After the loop, there is a major hill up Brighton Bridge (ending around mile 4.5).  That hill is short but steep.  The last hill is Liberty Street hill, and all of us Brew Hogs know that hill well, as it is on both the Hudepohl 14k and the Bockfest 5k.  There is a little bit of a hill towards the end coming from the intersection of Pete Rose Way and Eggleston to the finish line on Mehring.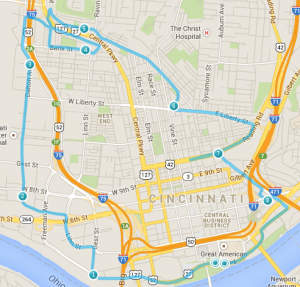 Marked along the course are the location of several breweries that were once in Cincinnati – some still existing, but many are ghosts of prohibition, which killed the brewing industry in the city.
The course is well monitored by volunteers that make sure that we don't get turned incorrectly at the 7K/14K split (which is very early on).  This event is put on by same group that organizes the Flying Pig Marathon, and they know how to put on great events.
My performance on the course was pretty awesome.  I maintained a reasonably consistent speed (consistent meaning that there wasn't a lot of speeding up and slowing down), and I negative split the race.  Of course, with Endomondo (or any other program), the first mile seems a lot longer because I started the timer when I THOUGHT the gun would sound, and I was a little bit off.  I'm sure it had nothing to do with the fact that I was running near a six-pack (see the website) of convicts and suspects including Lindsay Lohan, Ray Rice, and Adrian Peterson (complete with a switch) and my dislike for black eyes and busted bums! 🙂

One thing that really shocked me was when I actually looked at Endomondo, I told me I had 6 trophies for best distances/times.  I'm pretty shocked I could get my best 12 minute, best 1 hour, best 3k, best 3 mi, best 5k, and best 10k all in one race, but I'm certainly not complaining and it FELT that good while I was running.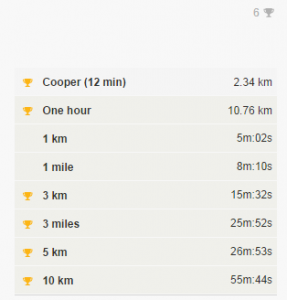 The Weather
Partly sunny, low 60s at the start, upper 60s at the end.  No rain, roads dry.  Wind was light.
Fueling Strategy
Everyone talks about fueling for marathons and half marathons, nobody talks about fueling for a 14k or 15k, although for a lot of runners it is pretty important but not complex.  I took two Gatorade Energy Chews around mile 3.5.  I didn't want something as potent as Gu, and truthfully the Energy Chews taste better.  That also put me taking the chews just before the second water station, where I ended up with a Gatorade (I wanted water, but I ended up with the green stuff).
Life of the Race and Afterparty
One of the things that makes this race unique is the costume contest.  I didn't take many pictures, but I did take a few.
The band, Just Add Beer was pretty cool too.  I'd post the videos of them, but truthfully my phone does not do them justice.  Of course being in a runner's high, having a beer in me, and them deciding to play Gold On The Ceiling may affect my judgement.  Also, one of them was wearing a 7k number and medal.
So the 9:11 min/mi pace was not only a PR for a long race, it was a 10:27 improvement over last year.  So I'm pretty pleased with myself.
/A