More Looking at Beer Competitions
In the last few weeks since I first did some data-crunching on a few competitions (the Ohio State Fair, the AHA National Homebrewers Competition, and the Indiana State Fair), two things have happened – the results for the Cincinnati Malt Infusers 2015 All-American Home Brew Competition were released and I read an article about making heat maps, which is a better way to look at this.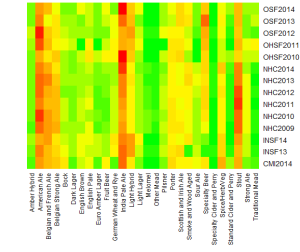 Note: green means few, red means many.  Colors are proportion of the entries for that competition.
This really just shows the same conclusions I already came to previously:
American Ale, IPA, and Stout are the most popular categories
Light Hybrid is a little more popular at the state fairs than the NHC (which can probably be deemed to be somewhat of an average)
One thing the heat map shows is how some styles ebb and flow through time and location.  Smoke, sour, and Belgian strong categories really show that.
The other conclusion I came to in the last writing on this subject still applies, too.  This doesn't matter if YOU like the beer you brew.
Cheers!