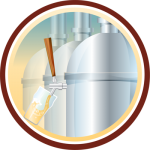 I'm not very secretive about being new to homebrewing.  And I've not had every type of beer, and each brewer (frequently) puts their own spin on things.  Going to breweries is a nice way to get rare, unreleased, difficult to find, or beers that you wouldn't buy in a large pack (e.g. from a style you don't normally like).  It also gives me a chance to develop my palete further (definitely a good thing), and remain part of the craft beer revolution that is happening.
I've visited a handful of breweries, and I'm trying to be better to seek out new, interesting, and local beers when I go out of town.  Last October, I happened to be in Atlantic City and Tun Tavern is hooked onto a hotel that will be holding a conference I'm involved with.  I was only in Atlantic City for two nights, and one of them had a (prearranged) dinner at a chain restaurant where the best beer on the menu was Yuengling (I guess it could be worse).  So fortunately I made it there.  It's just a shame I didn't take more than one picture.  I found their flavors interesting, and fortunately not in a bad way.
During the week prior to Christmas, I made it out to Listermann Brewing, courtesy of my awesome staff giving me a gift card there (it's going to be worth their while!).  Prior to making it out there, I had two beers by Listermann (and both were prior to really knowing what I was getting).  One was a Scottish Ale.  Which is too malty for my tastes. The other was Chicow!, which was also too sweet for me.  However, in going to their brewery, I was able to get four beers that I had never had before, 562, Batch 300, Piquant, and Nutcase Peanut Butter Porter.  Not only did I find these beers to be quite good, but also very interesting as the flavors (particularly in Piquant and Nutcase PBP) were different from what I've had before.  It made it worth the trip.  My only regret is not getting a few pics, but I'll be back – I still have around $0.23 left on that gift card and I KNOW I'll need something soon (and of course I'll try a few others while I'm there).
After Christmas, I made it out to 50 West Brewery.  They have the best brewery food that I've ever had hands down.  My wife and I had brunch, and both meals (the country fried steak and the biscuits and gravy) were EXCELLENT.  I wasn't a huge fan of all their beers – it seems the summit hops they use are not my favorite.  However, their Mooving Violation is a great stout that goes well with their brunch (or without their brunch, but personally I'd recommend the brunch).
Also after Christmas, I went over to Old Firehouse Brewery in Williamsburg.  I should drop by here more often because it is not far from where I live.  They have some excellent beers on tap.  My only regret is not leaving with a howler of Probie Porter to go with the growler of Code 3 Red.  OFB has a Gose beer on tap, and that was the first time I had anything in that style.  It's very good and would pair well with a warm summer day.
So fast forward two weeks to my annual DC trip. I found a reception at Right Proper Brewing Company. I looked at their website and found one beer out of four listed I was interested in – a Saison (their website has been updated since then). When I got in there, they had a great list of beers. I drank both of the Saisons they had on the menu as well as their porter – all were very good!
I visited one other brewery (well, brewpub) in DC while I was there, the Capital City Brewing Company.  The beer was good, the food was good, service was a little slow, and I didn't take any pictures.  Regardless, I got to drink a beer I wouldn't have otherwise (and I might be back to try more).  DC is a yearly thing for me, so next year's plan includes a trip to DC Brau.
Cheers to more visits!