Some Kind of Race Report: Bockfest 5k
Not to be confused with the Bockhurt 5k.
Thanks to Old Man Winter and some rodent from PuxatawnICAN'TSPELLTHISDAMNCITY (both of whom should probably stay as far from my truck as possible!), I've been dealing with a lot of back pain for the past few weeks (from shoveling snow).  I ran on the dreadmill once since the injury, and it was a successful run.  Two days later, I ran in the snow and made it a half mile before searing pains in my back caused me to stop.
Running vs. walking was a race-day-decision for me, and my back felt good enough to run it.  I should have walked.
My time was good – 26:28.  Not a PR, but second best and considering the injury and I was going easy, I'm not complaining at all.  The new course wasn't as bad as I thought it would be.  I thought it would be much harder going left onto Reading instead of right, but the hill isn't that bad there (or maybe since I run up Gilbert all the time, I'm not phased by hills anymore).  Also, the Flying Pig Crew did A LOT to ensure the course was snow free and they even had a volunteer yelling to runners about ice on the edge of the course between mile 2 and mile 3 to make sure nobody slipped.
SOAPBOX: if you do any run and you're not going to run AT LEAST the first mile, DO NOT start in the front half of the pack.  If you're walking in the middle in the opening area of a race, you're fair game to get run over by runners (and some of us aren't exactly lightweights).  Sorry not sorry.
After the finish, I grabbed my water and a banana and headed inside for beer.  In the shitty picture below, one of the beers said "Bockfest Competition Winning Brew".  Needless to say, I got one of those.  I also got a Red Hop Mess.  Both were very good.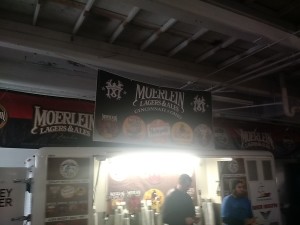 The medal was nice, too.  They got away from the bottle opener design and went with ein Bock und ein Bier.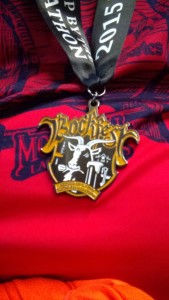 The unfortunate thing was Saturday afternoon and into the evening my back got worse.   I shoulda walked.  But now (on Monday), it's much better and I should be back into my regular running cycle this week, just in time for Spring in Cincy.
Cheers!
PS: there's a reason core routines exist.