Friend of Hades IPA is the only bitter IPA fit for the god of the underworld.  The malts take a seat at the back of the back of the boat while the hops load up.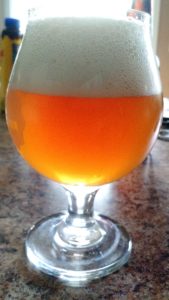 Stats
Brew Date: September 12, 2015
OG: 1.056, FG: 1.008, ABV: 6.3%
IBU: 78.3
Tasting Notes
Appearance: copper color with thick lasting white head and significant lacing.
Aroma: very strong citrus aroma of oranges and grapefruit.
Taste: bitter taste that is at the level of orange juice.  Bitter aftertaste with not-so-subtle orange flavor.
Mouthfeel: crisp and dry, somewhat acidic feeling.
Overall Impression: This is a beer for IPA lovers.  There is little malt here, only bitterness.